 Secure business email and so much more
Fully Managed Google Powered Email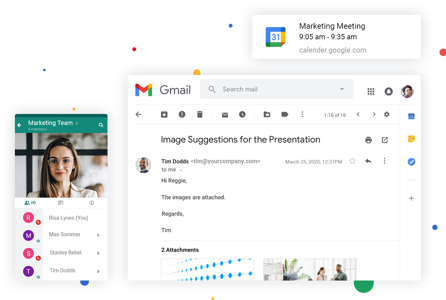 The latest Gmail makes it easier to stay on top of the work that matters. With secure, ad-free email as a foundation, you can also chat, make voice or video calls, and stay on top of project work with shared files and tasks – all right in Gmail.
Build customer trust by giving everyone in your company a professional email address at your domain, like priya@yourcompany and joe@yourcompany. Also create group mailing lists, such as sales@yourcompany.
Buy Now!
Google Workspace Features
Leverage the power of Google's machine intelligence to build a smarter team
Get a professional email for your business with all the powerful features of Gmail.
Stay connected with your colleagues via HD video calls and instant messages using Google Meet and Google Chat.
Keep your schedule organized
Add reminders, schedule meetings and never miss a thing with Google's smart calendar.
Intelligent Collaboration
Collaborate in real time, store your files on the cloud, share and access them from anywhere.
Search across all your organizations content. From Gmail and Drive to Docs, Sheets, Slides, Calendar, and more.
Discuss new ideas, engage in meaningful conversations and stay up to date with Currents.
Yes, you can use an existing domain.
Yes. Google Workspace is designed as an all-in-one solution with integrated tools that work seamlessly together.
Yes, you can create mailing lists and add/delete users, select a moderator, restrict people from joining a list or even ban users from a list.
In addition to accessing Google Workspace mail from the Gmail web interface, you can send and receive mail from your favorite desktop client. Depending on the client, you can use either the IMAP or POP mail protocol.
You can send and receive emails using any desktop-based email client such as Microsoft Outlook, Outlook Express, Mozilla Thunderbird, Eudora, Entourage 2004, Windows Mail, etc. We also have a guide on how you can configure different email clients to send/receive emails. The enterprise email product supports the POP, IMAP and MAPI protocols.